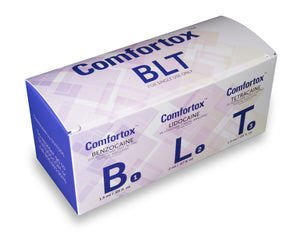 Comfortox BLT
Regular price $155.00 Sale
 Comfortox BLT 
One Of The Most Effective Topical Pain Management Solutions Available Today!
Comfortox BLT Preparation For Best Results
Clinical Demonstration – How To Use Comfortox BLT
Each strip includes .05 B, .07 L, .05 T. Box contains 30 strips.
Nothing compares to Comfortox BLT – get ready for the most comfortable patient experience possible with Comfortox BLT and Comfortox syringes!
Comfortox BLT is a variety package that contains a special formulation of these topical anesthetic analgesics: benzocaine (20%), lidocaine (4%) and tetracaine (2%) – all products packaged together for convenience and to allow clinician application flexibility
Freshest BLT Available – You mix it right before patient use.  Live mixing means product is at its freshest and strongest which makes it one of the most effective topical anesthetics on the market today
Eliminate legal exposure – Compounded BLT formulations that are not specifically for the purpose of the patient you are treating is a violation of FDA rules and carry criminal fines and penalties.  Stop putting your professional license or practice at risk!
Eliminate cross contamination risk – Each of the included anesthetic analgesics is packaged in
single-use, metered dosed, sanitary packets for precision and reduction in cross contamination risk
Reduce cost –Compared to typical compounded topical anesthetic costs you save from 20% – 50% or even more
Reduce onset wait time – Comfortox BLT products all include a proprietary formulation designed to improve onset and efficacy – speeding onset and reducing treatment time improves the patient experience, office productivity and practice revenue
Safe and effective -  Patient safety is paramount with Comfortox BLT.  Reducing topical anesthetic analgesic time on skin may reduce the risk of cumulative systemic absorption – in an IRB approved study of the Comfortox lidocaine product, no active lidocaine entered the blood in even a single subject after multiple applications in an 8 hour period.  Comfortox BLT products do NOT contain DMSO often found in many compounded products.
ORDER NOW and get started providing comfortable patient care and reducing risk associated with compounds at a significant savings!